Kurti is an inevitable outfit in any women's wardrobe, especially Indian women's. But still, only a few women know how to style them properly and to match current fashion trends.
Many are following the same traditional way of styling Kurti with pants and dupatta. Hey lady! If you are one among them, It's high time to change your style.
Don't worry. I can tell you the top 10 different ways to style your Kurti so that you can also be a fashionista in 2021 among society.
Before that, Let me tell you how much a Kurti can change your aesthetic look and why ladies out there fall head over heels for it.
Kurti is a loose shirt type of dress without a collar made of different materials. The color combination used in Kurti and the easy wear makes women go crazy for it.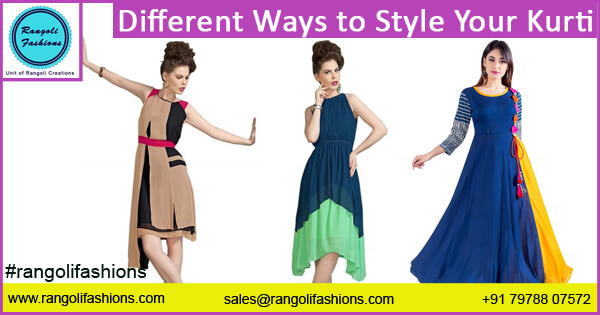 Also, Kurti has no age restriction. Any person of any age group can wear it. These days, girls love to style a single Kurti with multiple bottoms wears so that each time their complete outlook changes.
Hence, This is a budget-friendly option for many girls out in India. Also, they can use many beautiful accessories while styling a Kurti.
In short, A Kurti is a lovable piece of outfit any woman can't resist owning one for them. The surprising fact about Kurti is, you will get a Kurti for each occasion in your life.
Be it for office wear, party wear, daily wear, etc. A pocket-friendly Kurti will be available for each girl to afford.
Different Ways to Style Your Kurtis
As I said earlier, Many women still wear Kurti with regular pants, which was the traditional way of wearing them.
Also, It is seen that long skirts have also been worn in some regions of India. But now, the trend is entirely different when it comes to pairing Kurti with bottoms.
You will find ample options nowadays to pair up with Kurti. And, each outlook will be entirely new, and once tried, you will never regret styling it.
So let us discuss each in detail and, by the end of this article, you will be able to decide which style suits you the best.
1. Kurtis with Leggings
Leggings are skin-fit pants made of elastic material combined with cotton or polyester. They are available in all sizes from XS TO XXL and are highly popular in India.
The Colour options at which leggings are available are astonishing because you will find all shades of colors. Some high-quality leggings are expensive which cost around 600 Indian rupees.
But you can also get them at Rs/- 100 if you are ready to compromise a bit on the quality. Do not overthink it would be cheap quality. You will have to change and buy a new one after a year of continuous usage.
That's all. Also, It is easy to wear leggings if you choose proper sizing. Because of its skin-fitting nature, some people find it uncomfortable to wear it day long.
For such people, here is my tip. Choose one or two sizes larger than your actual size. You will love selecting a legging and will surely buy more.
Also, leggings help to create an elongated look to your legs which is a plus point for short girls. For skinny people, it is best to avoid leggings because they create an illusion of more thin legs.
2. Kurtis with Palazzo Pants
Palazzo pants are extremely wide-leg pants. They are long and are wider at the bottom. Using palazzo pants with a Kurti is a good choice if you are a tall and slim person.
But, if you are short and overweighing, palazzo pants may add volume to your look and spoil the beauty in you. There are different designs available in palazzo pants from simple to heavy embroidered.
Colour options are also high, but not much as leggings. Palazzo pants are the favorite bottom wear for many women because of their comfortability.
Its highly flared nature makes the person wearing it free to move their legs. They are on-trend these days because celebrities are roaming around wearing Kurti with palazzo pants.
Hence, women are crazy collecting their palazzos, and some even stitch them from local tailors to get perfect fitting and length.
Yeah, Palazzo pants have such an option too, unlike, leggings which are available only in read-made form.
3. Kurtis with Jeans
Pairing or styling Kurti with jeans is found most commonly among youngsters. Because they find jeans cool to wear and at the same time comfortable too.
And when you pair jeans with Kurti, it gives an Indo-Western look which is highly on-trend all time. I think almost all girls have worn jeans along with Kurti at least once in their lifetime.
Unlike other western wear tops, Kurtis is super comfortable. Hence, it's a good-to-go outfit for all youngsters, for almost all casual parties, college, office wear, and get-togethers.
Also, with one pair of jeans, you can style multiple Kurtis. Likely by using proper accessories, your overall look will be at the next level.
I highly suggest following celebrities and beauty bloggers know the current trend of pairing jeans with Kurtis. You know, Jeans are an all-time trendy outfit in the modern fashion world.
Among jeans themselves, there are different styles like the skinny fit, ankle length, boyfriend jeans, 3/4th jeans, etc.
So deciding on which type of jeans suits your body type and pairing it with a Kurti is a wonderful idea.
4. Kurtis with Patialas
Patiala pants are another types of highly comfortable female trousers. They originated from the Northern region of Punjab ( Patiala city) and hence have their name.
They are very loose pants stitched with lots of fleets. Hence, it makes them look different, at the same time beautiful.
Irrespective of the age, women love to wear Patiala pants and are highly popular in India. Most commonly used by aged women daily.
Often they are stitched according to the user's measurements, but yes, it is also available in ready-to-wear type nowadays.
Patiala pants are commonly found in solid colors. Hence, women often buy few regular colors like white and black to pair up with multiple Kurtis.
Depending upon the material of Patiala pants, the overall look also changes. If the pants are made of cotton material, they look heavy.
But when stitched with chiffon, they look thin and beautiful. Patiala pants are available in two types. As semi Patiala and Heavy Patiala, depending upon the pleats in contains.
If you wish more pleats, try stitching heavy Patiala. Else for normal pleats choose semi Patiala. Semi Patiala will be the best option for overweight people, while heavy Patiala looks good on skinny people.
5. Kurtis with Dhoti Pants
Dhoti pants are the type of loose pants wrapped around the legs and have a knot at the waist. They are not much common among Indian women.
But still, in some northern regions of India, this type of pants is found to be worn by women daily. You could have find dhoti pants available, both online and offline stores.
When worn these pants with Kurti, it gives an elegant look. It somewhat looks like Patiala pants, but with a design different.
Some people find it hard to handle dhoti pants along with Kurti. For such people, try styling it according to your body type.
As I said earlier, it is mostly used among men, But women also started including dhoti pants to their fashion list.
Hence, if you wish to try a new outlook, you could try dhoti pants along with Kurti. You will be the center of attraction once you wear it.
6. Kurtis with Short Skirts and Long Skirts
Styling Kurti with skirts is not new to women in India. It is widely followed in the northern parts of India like Rajasthan from very early times itself.
But now, this is becoming very common all around the world that too, short skirts also. Skirts are highly comfortable to wear, unlike any other outfit.
But the problem is you may need to wear some kind of shorts underneath. Rest assured, the look that the skirt gives when combined with Kurti is mesmerizing.
Heavily embroidered skirts along with Kurti will give any woman an instant party wear look without many accessories.
Hence, Kurti with skirts is the most preferable choice for festive and party occasions. Skirts sizing depends only around the waist.
So measuring your waist size, you could choose your skirt, be it short or long skirts. Short skirts are somewhat more comfortable and are mostly used by youngsters.
If you are a short person, it is better to avoid long skirts, which can make you even shorter. Also, for long people, short ankle-length skirts will not be a good idea.
7. Kurtis with Cigarette Pant Style
Cigarette pants, also called slim-fit pants came into trend in the early 1660s. It evolved from the pants of men and is widely used among women these days.
They are highly recommendable to short people to create an illusion of longer legs. If you can choose the right size, then cigarette pants are the best option to look trendy along with Kurti.
These types of pants are commonly available in shops readymade. You can also get it stitched from local tailors taking your measurements.
It is better to choose a mix of elasticated material along with cotton for cigarette pants. Cigarette pants mostly come in solid colors.
Hence it is used along with other tops other than Kurtis. Unlike leggings, this type of pants is a bit expensive because of its stitching style. It cost a minimum of 350 rupees to buy a regular cigarette pant.
The price is more for the embroidered or lace-fitted cigarette pants. Anyhow, other than older women, all age group people prefer to wear cigarette pants along with Kurti. Because of the trendy look it provides.
8. Kurtis with Shorts
Kurtis with shorts is another type of modern styling which is not so common in India. Shorts are short pants that have length, till above the knees.
It can be of any material, be it jeans, cotton, or the same type of the Kurti. They suit well for college-going girls to style in their day or night outings or for some get-together.
Kurti, along with shorts, is primarily considered casual wear. The Kurti with a front slit below the naval and wearing shorts, along with it will give an ultra-modern look.
It usually suits tall slim girls. But who cares about body types. If you wish to style yourself differently without any second thought, grab a pair of shorts and pair them with your Kurti.
To know more about styling tips with shorts, you can follow Bollywood celebrities who use them frequently.
9. Kurtis with Sharara Pants
Sharara pants are half cigarette pants and half palazzo pants with wider pleats from just above the knees. They are believed to be originated from Punjab near to Pakistan border.
Mostly they are decorated with zari and embroidered along mirror works to look ethnic. As sharara have this unique design, women are so fond of sharara to style them.
It is commonly used on festive occasions by almost all age groups of people. People are not usually fond of casual wear use and, it's not so comfortable to wear too.
But if you wish to create an ethnic look for a wedding or any party, it is better to pair a Kurti with sharara pants.
Adding a few large beautiful pieces of jewelry and suitable accessories will add the beauty of the overall outlook.
10. Kurtis with Flare Skirts
Kurti with flared skirts is also somewhat popular in India, like skirts. The thing with flare Kurti is, it is similar to normal Kurti.
But it requires a lot of cloth for stitching large flares. It gives a heavy look to the person wearing it. Hence, Flared skirts along with Kurti are a big NO for overweight, short girls.
Flared skirts are worn with Kurti by older women too, as its highly comfortable to wear. All age group people can wear flared skirts with Kurti.
Hence most people wear it during festive occasions. In North India, you can find ladies and kids wearing Kurti along with flared skirts during festive and party occasions.
It is very beautiful to see women wearing flared skirts with Kurti. You should try it at least once in your lifetime. The outlook this combination gives will be a Lit.