You will find at least a Kurti in every Indian woman's wardrobe irrespective of the location they live in the world. Have you ever thought about why Indian women are so addicted to designer Kurtis?
There are several reasons.
Here, I can tell you the top ten reasons why every woman prefers designer Kurtis over any attire in the fashion industry.
But before that, let us know from when and where this fashion piece came into existence and grabbed women's hearts.
First of all, let us understand what a Kurti is? It is a long loose shirt without a collar with side slits below the hip.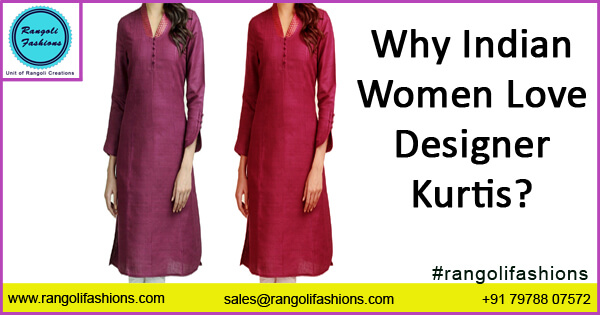 It evolved from the long shirt men used to wear in northern parts of India.
Because of its comfortability, women slowly started using it.
Nowadays, there are a variety of designs available for kurtas for different occasions.
Hence designer kurtas are highly on demand all the time.
The surprising fact is that irrespective of the age of people using it, kurta is always on-trend.
It is one of the most selling fashion wear items in India of all time.
Because of the popularity of this outfit, many companies started manufacturing it. And it brought more job opportunities to India.
Wait, Indian Kurtis is not only famous in India but also all around the world. Foreigners also love this supercool outfit because of many reasons.
Why Indian Women Love Designer Kurtis?
Indian women's Love for designer Kurtis is eternal.
Day by day, new modern designs are emerging that no woman can't resist trying.
But, Do you think it is because of the design and the bright colors that make women buy and use it?
NO, A Big NO!
Earlier, Kurtis are made with either pure cotton or silk.
But now, with the emergence of new fabrics, the divergence has increased tremendously.
Chiffon, Georgette, Rayon Kurtis are highly on demand among ladies now. Because of the appearance they give to the person wearing, and also the vibrant colors.
So without any ado, let us discuss the 10 reasons why Indian women love designer Kurtis the most?
1. Affordable Price and In Our Budget
When you hear of designer dresses, you may have thought it's expensive? Because that's what usually happens with all kinds of designer outfits.
But when it comes to Kurtis, you get stunning modern designs at a much affordable rate which will be under budget.
The reason is they produce them in bulk which makes the price low.
For individual designer pieces, you may have to pay a bit extra.
Still, Kurtis is like a one-time investment for many women. Good quality kurtas from Rangoli Fashions last for years and can be used for the younger generation as a memory.
You will get Kurtis for as low as 100 Indian rupees in the Indian market when you can adjust with designs and color options.
Hence every level of people in India wear Kurtis, and people can choose their piece depending on their budget.
There are different types of Kurtis available now, specialized in certain regions in India like Lucknow Kurti, with their handcrafted designs.
Women from all around the world can easily buy designer Kurtis. Their pocket-friendly price range that no woman can't resist trying on.
2. Gives Gorgeous Look in all Styles
Even though Kurti is traditional wear, they have evolved beautifully to match the modern fashion industry.
Modern women are so conscious about their looks that they will try all means to have a perfect trendy look.
But Kurtis from Rangoli Fashions doesn't disappoint you in this aspect also.
You will get different Kurtis, all for different seasons and, each one will make you comfortable.
In summers, Cotton Kurtis and Rayon Kurtis circle in the market. During winters, you could find compelling stylish Woolen Kurtis to style.
So whatever the season be, You will have a designer Kurti to make you look gorgeous.
There are different styles of Kurtis available like A-line Kurti, Anarkali Kurti, Long straight Kurti, Flared Kurti, etc.
Kurti can change your overall outlook and, depending upon the occasion and, the season you can choose your style.
Also, women, these days prefer the style matching their body types to enhance their look by hiding their flaws.
Hence new styles of Kurtis are emerging day by day at Rangoli Fashion Designers, which every woman loves to own.
3. Easy to Wear and Makes us Feel Comfortable
Indian Kurtis is not only a styling piece but also super comfortable wear.
Mostly, the material used to make Kurti makes it comfortable to wear according to the weather.
So all ladies out in India have Kurtis depending on the climatic condition where they stay.
Also, the design and the pattern of Kurtis are easy to wear, unlike other traditional outfits like sarees.
Anyone can wear a Kurti without a second person's help and, most Kurtis has loose-fitting making.
This loose Kurtis will be highly breathable and comfortable for the person. Another reason for making it trending all-time wearing Kurtis.
Who can say NO to an outfit that is easy to wear, comfortable, and at the same style stylish?
Yes, This is one of the main reasons why all women prefer Kurtis over any attire?
In Northern India, older women prefer wearing Kurtis more because they can wear easily and are not difficult to maintain, unlike sarees.
4. Pocket Friendly Gives Elegant Looks
Like I said earlier, Designer Kurtis from Rangoli Fashions is highly affordable in India, unlike other designer outfits.
Especially in India, you can find several manufacturing units designing trendy Kurtis with different sizing and even materials.
College-going girls and working ladies highly recommend using stylish designer Kurtis.
Because nowadays, Kurtis is available in different sizes, fully stitched, and ready to wear.
What if you get all these benefits in a pocket-friendly range? No woman is going to miss such a chance right?
Isn't it? Moreover, it helps them buy more Kurtis of different styles and materials and wear one each day in a week and have a celebrity dressing style.
Why Kurtis became so popular in India is because of its this quality and budget-friendly price.
Unlike other outfits like Punjabi suits, salwar kameez, and sarees, which are expensive and not comfortable. Women love Kurti more.
5. Available in Modern and Traditional Looks
Even though Kurti is traditional wear, designers have made suitable changes in the traditional Kurtis to compete with modern dresses.
Traditional Kurtis like hand-printed and woven designs are still available in the market for those who wish to style traditionally.
At the same time, traditional Kurti is modified into sleeveless, backless, different designer sleeves, even lengthwise also changes have been done.
Hence, people of any age group can style according to their wishes either in a modern way or in a traditional way.
The modern way of using Kurtis is by using denim materials for making Kurtis bring a western look.
Also, some Kurtis has evolved to dresses like a full-length dress, midi dress, etc.
All these changes have been made to traditional Indian Kurti to look like some other designer outfit.
6. Can Be Easily Paired with Other Outfits
Nowadays, you can pair your Kurti with jeans, palazzo pants, skirts, trousers, and even with sarees.
Yes, you heard it right.
The fashion industry is bringing new tips and tricks to style the traditional Kurti. To make it more popular, and to not discard it stating the traditional wear.
These days most Indian girls prefer to create an Indo western look by pairing kurta with westerns outfits like jeans and pants, which gives them a trendy look.
So what I want to say is, whatever be the outfit you pair with Kurti, the overall outlook it gives is super gorgeous.
And no women, especially in India, will leave a chance to wear them.
Pairing a Kurti with palazzo, leggings, jeans, and skirts is very common in India.
All age group people can pair Kurti with any other bottom wear and can transform the look into salwar kameez.
7. Suitable to Wear On All Occasions
Another big benefit of Kurti is it never goes out of style to any occasion.
Be it any wedding, festival, family or friends get together, college or office, or a date night, You will get a Kurti for each occasion.
There is heavy designer Kurtis available for wedding functions and simple plain Kurtis for daily wear.
So you won't have to think of any other outfit than a Kurti for any occasion in your life if you have a suitable Kurti for each function.
Kurti along with a Sharara and a Dupatta set is good to go for a wedding function.
And the same Kurti, you can use with jeans to go for a family get-together.
Don't worry if the season is different, you still get designer Kurtis in woolen wear and, what else you can ask for?
The slip kind of Kurtis is highly preferable by the younger generation. Because it is a trending style nowadays and gives a stylish look to each occasion.
8. A Large List of Matching Accessories
Another thing women love about using Kurti is they can pair Kurti with a variety of accessories making even a simple plain Kurti party wear.
Hence with a plain Kurti and proper accessories, any Kurti can be used for multiple occasions.
Women's love for accessories is another topic to discuss, and when they get a chance to style Kurti and accessories together, it's a double win for women.
For example, a plain black Kurti along with jeans and shoes is normal casual wear.
The same Kurti with heavy tassel earing and embroidered dupatta becomes party wear.
So a Kurti look can be changed completely with the usage of proper accessories and, with a single Kurti you can style for different occasions.
If you have brilliant styling sense, with minimal accessories and Kurtis, you can mix and match to create different outlooks.
Not only jewelry but also with bags, footwear, hair styling, etc. The whole outlook can be changed, and hence Kurti help you to try all such accessories
9. A Vast Range of Collections
Kurtis is available in a wide range of collections. Be it by the material used, colors, design, pattern, etc.
This wide variety makes women confused because each one will be beautiful and, deciding on a few is a difficult task.
There are special categories of Kurtis available for office wear, wedding, college-going, daily wear, etc.
You don't get this much variety of options in any other type of outfit. I guess other than Indian Kurti.
The wide range of the collection available in different price ranges makes it available for all people.
Some celebrity-style Kurtis, duplicate designs are manufactured and sold at low prices to common people by few companies.
Likewise, Indian women will never feel dissatisfied with the varying collection of Kurtis available in India.
10. No Age Discrimination and Available for all Age Groups
With all kinds of outfits, you will find age restrictions in usage. Consider sarees small children can't wear.
Even though all age groups can drape them with some knowledge of draping a saree.
When coming to western wear, most old people cannot use them because they are uncomfortable and tight-fitting.
But when it comes to Kurti, from a small baby to an age-old grandma, can wear them comfortably.
It is the reason why Kurti is most widely used in India.
So, there is no age discrimination when it comes to wearing Kurtis.
With all the above-stated benefits, if this also comes into the list, You could clearly understand how popular will be Indian designer Kurti in India?
Conclusion
Having said about the benefits of having a designer Kurti, you may have understood why Indian women are soo much in love with this outfit.
These are only general reasons why one loves Indian designer Kurtis.
When asked individually, each woman will have their own opinion.
Whatever be that, Kurti will always be on top of the favorable dresses women choose all time.
The stylish designs which are highly irresistible by a woman will always be trending in India.
Indian women, where ever they stay, will always find a way to collect the latest trend of Kurtis available in India to make them look gorgeous.
Because of this, even foreigners started loving Kurtis and wanted to use them.
In short, Indian designer Kurti is an un-avoidable outfit for every Indian woman.